Amaranth Games has announced that Aveyond 4 is in progress. It was said that Amanda, the game's designer, wrote a 400 page script. The game will be made so that it can be played on windows , MAC and android :D . For more information and sneak peeks, visit Aveyond.com Have fun, as we eagerly wait for Aveyond 4!
News until now:
The first screenshot of Aveyond 4 has arrived!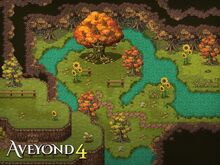 Meet Boyle Once he had a dream: rule the world. Unfortunately, he failed miserably as a villain and has retired. You can find him in a small village where wicked folks go to retire, deep within an enchanted forest.
Meet Myst Shy and wild, but when cornered, she is as fierce as a tornado. More details to come!
Aveyond 4 Characters:
Edit
Phye
Rowen
Robin